Info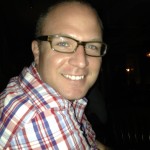 My name is Jeff Murr from Raleigh, NC. I'm a technologist working in the financial services, with a small dabble in health care services vertical. I currently work in Cary, NC at MetLife in their Global Technology Operations Hub in Research Triangle Park in Platform Engineering, but this blog, its content and opinions, are my own.
Prior to MetLife, I worked a short time for Allscripts, a leading provider in healthcare system solutions. Before Allscripts, I worked many years with Fiserv, leading their professional services system engineering team building internet facing financial services and payments technology for the worlds leading financial institutions. Throughout my career, I have worked with some of the worlds largest financial institution around the world to support their technology needs on the web.
I have been in the web technology field for many years with a focus on Microsoft cloud technology offerings. Most recently, I am focused on container strategies and working with Docker. I'll talk about technology whenever someone will listen so I thought I'd start a blog to help others with similar problems that I face in the field.
To some, this may all comes across as garble; my hope is other technologists will grok it and use it in their own work, hence my blog's [attempted] creative name.
That's me.  Hope you enjoy and find things useful while you're here.